As an entrepreneur, you get pulled in many directions. It is easy to get distracted by tasks that need attention throughout your day. Plus, as your business grows, so do the distractions.
How do you begin to focus on the most important things? They say you need to "work on your business and not in your business." It sounds good, but how do you actually make that happen? Start by asking yourself throughout your day:
"If this was the only thing I did today, would I be happy with how my day has gone?"
As with inventory segmentation, the Pareto Principle can also be applied to your time. 80% of the day's positive results come from 20% of your activities. Good books to read on this topic include The ONE Thing and Mastering the Rockefeller Habits. The most effective entrepreneurs focus their time on the activities that will lead to success. It is easy to get distracted by tasks that don't drive us toward the end goal of growing the business. Focus on only those tasks that will bring you closer to your personal goals and dreams.
Here are five ways you can begin to focus: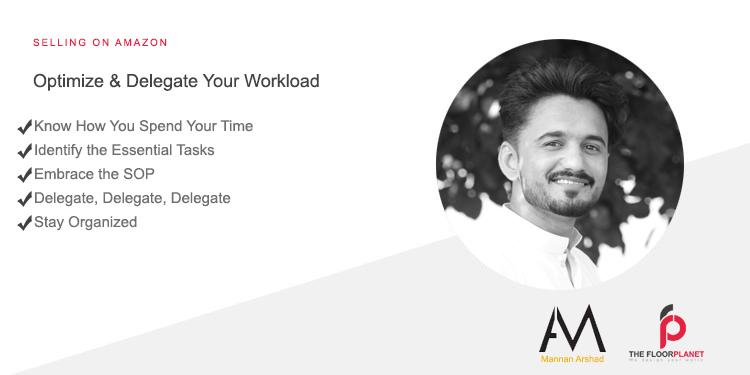 1. Know How You Spend Your Time
The first step toward optimizing your time is to recognize where your time is being spent. What isn't measured, can't be improved.
Try tracking exactly how you spend your time using a tool like Toggl. Many people are surprised by exactly how much time they spend on "busy work." Take a hard look at your daily routine and decide what tasks are your result drivers. That is the 20% that you should be entirely focused on. The other 80% should be systemized and delegated. You will even find that many tasks become unnecessary when you focus on your impact driving tasks.
Need help deciding what to delegate? Keep a Post-It pad nearby you while working. Each time a task comes up that can be delegated, write it down and add it to a collection on your wall. It can be helpful to put them into groups that are related, like Marketing, Financial, Customer Service, etc. You can also do this in a document on the computer, but the visualization on the wall is really helpful.
Comb through the Post-Its and remove any tasks that don't need to be done. It is important to say "no" to unimportant tasks. Then, work out a plan to delegate the other tasks. If you've grouped the tasks into categories, you can get a quick sense of how much work is involved in each role.
2. Identify the Essential Tasks
How do you know which tasks are vital to your success?
Many entrepreneurs like to list their goals and then determine which tasks are critical to each goal. You need to identify what you're working towards so you can build the road map to get there. Some like to think of each goal as though it were a project and build a Gantt chart. The critical path for a project typically unveils itself. In other words, you must complete the important tasks because the project can't be completed without them. Ask yourself:
Does this task directly lead to the achievement of my goal?
Are there other tasks which can't be started until this task is complete?
You'll find that if a task has no dependencies, it tends to be the kind which can be delayed, delegated or even scrapped altogether.
3. Embrace the SOP
Once you identify the tasks that are essential to your success, write a Standard Operating Procedure (SOP) for everything in your business. Sounds daunting, right?
There are two big advantages to creating SOPs:
You can more clearly define exactly what needs to be done for each task. This is useful whether you're completing the task or delegating it to someone else.
SOPs allow you to easily transfer responsibility with fewer questions and less back and forth over what needs to be done. If you hire additional team members, SOPs are a huge help for getting people onboard and up-to-speed quickly.
4. Delegate, Delegate, Delegate
Your next question might be – Now that I've got my SOPs in place, where can I find the help I need?
Your hiring decision should be based on the tasks you need to be completed. Is a virtual assistant the right fit? You'll find that there are VAs out there who can cover many different tasks, including some which require special expertise. There are other virtual workers who specialize in specific types of work like search optimization, ad campaign management, or product photography.
Tim Ferris, author of 4-Hour Workweek, provides some great insight about delegating. He explains:
By setting up a business in which every task is outsourced to an expert, you can make your involvement almost completely unnecessary. To achieve this, keep two things in mind:
Curious what typically gets delegated? Here are some of the tasks that other Amazon sellers often outsource:
Customer service – e.g., responding to reviews or questions
Updating product listings
Monitoring and reviewing product listings – e.g., noticing changes in velocity, new competitors, or incidences of hijacking
Social media and marketing activities
Keyword research and optimization of listings or website (if applicable)
Communicating with Amazon – e.g., inappropriate feedback that needs to be addressed
Managing inventory, including orders and forecasting for holiday seasons
Competitor research
Product photography
Bookkeeping
5. Stay Organized
Yes, it can be nerve-wracking to delegate work. You've probably put a lot of blood, sweat, and tears into your business. (Well, hopefully not blood.)
The key to making it go smoothly is to get – and stay – organized.
Set up your team so that processes are streamlined and you don't have any bottlenecks. Track tasks so that everyone can stay on point. There are many different tools on the market today, along with preferences and theories for how to best to do this. Choose something that suits your style. For example, check out:
These tools are only as good as the people managing them. You can't simply set up a tool and expect everything to fall into place. Assign someone to monitor the use of the tool and ensure that everyone is staying on track.