The best e-commerce businesses understand that not every product should be treated equally. The Pareto Principle (a.k.a The 80/20 Rule) tells us that
roughly 80% of the effects come from 20% of the causes. When selling on Amazon, this means that 80% of a seller's profit can be attributed to 20% of their products.
Top sellers understand this paradox and focus the majority of their time and resources on these top 20% of items. They ensure that their safety stock is higher for these items. They add extra buffer into their lead time calculations for these items. They watch these Amazon pages carefully to protect them from slipping in the search rankings. They attack with force when a hijacker shows up on their product page with a counterfeit listing.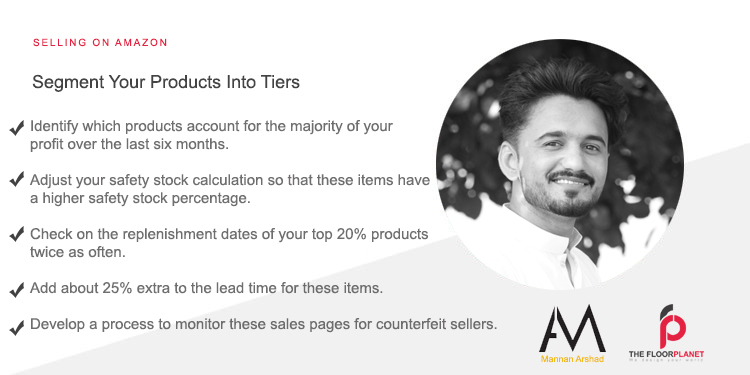 6 Steps to Capitalize on the 80/20 Rule:
Identify which products account for the majority of your profit over the last six months.
Adjust your safety stock calculation so that these items have a higher safety stock percentage.
Check on the replenishment dates of your top 20% products twice as often.
Add about 25% extra to the lead time for these items.
Develop a process to monitor these sales pages for counterfeit sellers. This is a good task for a virtual assistant – something we will look at further in the next section.
The key to running a successful business without too much stress is simplicity. Many people go into business online because they want to shape their life – flexible hours, an 'office' wherever you choose, and less of a day-to-day grind. The key to achieving all of this is working smart. Center your energy on the items that make you the most profit each month and optimize them. Don't waste your precious time and energy on the lowest 20% of your products. It simply isn't worth it. Many top sellers make most of their money from just one or two well-chosen and well-positioned products. You don't need a wide range of products to hit great sales numbers.
You can better manage the top 20% of your inventory with an inventory replenishment. One of the biggest setbacks you can face is a complete stock-out. Sales stop, best seller rank (BSR) takes a hit, and it can take some time to recover after going out of stock. Virtual assistant can give you peace of mind by helping you avoid these losses and make reordering easier and less time-consuming.